This should be good news. I wonder how it actually works especially for trains since we usually book tickets in advance. News extracted from
KTO
I asked KTO(Korea) how this railplus works. Their reply was,
"It works like a debit card. If you're using ITX, KTX, you still have to go to the ticket counter to purchase a train ticket. But you can use the Railplus to pay for your ticket instead of cash.When you take the subway or bus, it automatically deducts the value from your card once you scan it. But for trains, since you need to specify your destination and you need a seat number, you have to go to the ticket counter first."
Korea] Nationwide transportation card "Railplus" now available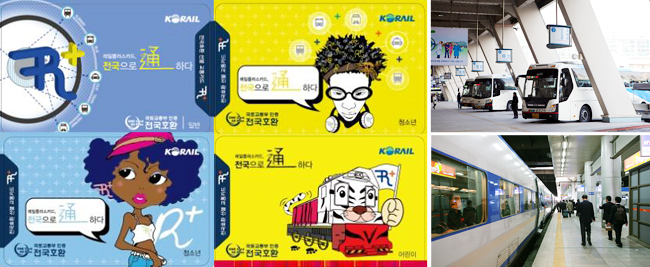 Photo credit: Korail
"Railplus", an integrated transportation card that can be used for nationwide railroads, buses, subways and expressways, is now available.

Railplus works as a prepaid transportation card and is available in three types: adult, teens, and children. The card costs 2,500 won and can be purchased at Korail stations or at Storyway stores (convenience stores operating under Korail).

Card holders can top up their cards at subway stations, train stations and Storyway stores. The card's stored value can also be used for other transactions inside the station such as paying for store purchases and parking fees (Seoul, Gwangmyeong, Daejeon, Dongdaegu, Ulsan, Singyeongju, Busan, Changwon and Masan).

The card is currently accepted throughout Seoul, Gyeonggi-do, Busan, Chungcheong-do, and in the Honam regions (Daejeon–Mokpo). Over time, RailPlus will be expanded to include the rest of the country.
<Railplus>
☞ Price: 2,500 won
☞ Where to purchase: Korail stations or Storyway convenience stores.
☞ Where to top up: Subway stations in Seoul and Gyeonggi-do (Seoul Subway Lines 1 to 8 and
Incheon Line), train stations, and Storyway stores.
☞ Compatibility:
Subways: Korail train stations, Seoul Subway Lines 1 to 9, Airport Railroad, Sinbungdang Line,
Incheon Line, Yongin Light Rail, Busan Subway Lines
Buses: Seoul, Gyeonggi-do, Incheon, Busan, Ulsan, Chungcheongnam-do, Chungcheongbuk-do,
Jeollabuk-do, Jeollanam-do (except Gangjin, Gurye, Naju, Wando and Jindo), Gyeongsangnam-do
(Miryang, Sacheon, Yangsan, Jinju, Changwon, Masan and Jinhae), Gyeongsangbuk-do
(Gyeongju, Gumi, Gimcheon), Gangwon-do (except Chuncheon)
☞ Website:

railplus.korail.com

(Korean only)
☞ Inquiries: +82-2-1599-7777 (Korean, English)
☞ 1330 Korea Travel Hotline: +82-2-1330 (Korean, English, Japanese, Chinese)